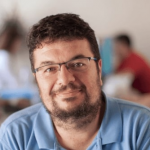 George Palaigeorgiou is an ex-associate professor in Educational Technology and currently Cofounder and Chief Product Officer at LearnWorlds, an online learning platform that allows more than 8000 educators, entrepreneurs, and organizations in 140 countries to create and distribute or sell online courses. LearnWorlds has raised a total of $33.1M in funding over 2 rounds and it is one of the first elearning companies that introduced AI to the whole spectrum of its instructional authoring tools. 
Dr Palaigeorgiou, together with Dr. George Veletsianos published recently an ebook entitled Master ChatGPT for Course Creation with the Art of Prompting in which they demonstrate how instructional design can be simplified and enhanced with the use of AI tools.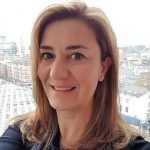 Dr Daphne Economou is a Senior Lecturer at the School of Computer Science and Engineering, University of Westminster and SFHEA.  
She is a passionate and innovative educator, who adopts creative teaching approaches to engage and enthuse her students in their learning. Her research in pedagogical innovation in HE, authored in highly cited articles, orbits around game-based and technology-enhanced learning for improving the student experience. In this direction, she leads the Serious Games at Westminster research group (SG@W). She draws lessons and practices of SG@W to expand the impact of sharing this wisdom by contributing this knowledge, and expertise to the Immersive Learning Research Network (iLRN), an international network of educational researchers and practitioners, where I serve as an Executive Board Member. She is also a founding member of the Technical Committee on Immersive Learning Environments (TC-ILE), within IEEE Educational Society which works on addressing the lack of standards in immersive learning and supports professional development for academic and industry practitioners in its application in HE.
Serious Games and their use in Higher Education: An overview of projects created by the Serious Games Research Group at the University of Westminster (SG@W) 
Serious games have been widely recognised among educators due to their potential in integrating simulated and contextualised experiences. Literature of serious games that covers the last two decades identified three main reasons for their growing use in education: they use actions rather than explanations and create personal motivation and satisfaction; they accommodate multiple learning styles and abilities; they foster decision-making and problem-solving activities in a virtual setting. The Serious Games at Westminster (SG@W) bridges interdisciplinary areas of research and practice within the University of Westminster to foster greater knowledge of effective game-based educational design to enhance teaching and learning within the organisation and to foster greater knowledge, understanding and use of serious games in different domains. This presentation provides an overview of the use of Serious Games in HE to satisfy pedagogical needs and requirements.